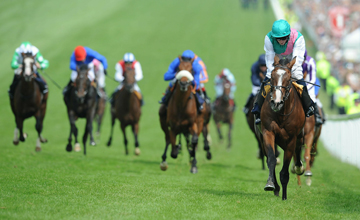 Workforce: a modest build-up culminated in an explosive Derby showing
PICTURE:
Getty
Workforce's glory romp demands top billing
Alastair Down salutes an exceptional colt whose brilliance made the story of the Derby his own
A FIFTH Derby in 30 years for Sir Michael and the second Classic in 24 hours for Ryan Moore, but both were upstaged by the medium of their magnificent triumph in the shape of Workforce, who slammed his field by seven merciless lengths and looked awesome in the process.
Here was a colt who had had just two runs and one of those - in the Dante - had been a washout. But Stoute doesn't send boys out to do men's work and, as pacemaker At First Sight built up a point-topointer's lead rounding Tattenham Corner, Workforce proved his matchless Freemason Lodge education had not been in vain.
With Seamie Heffernan ten lengths clear, it was Moore who was the first to go in hot pursuit, and Workforce unleashed was a sight to behold. One minute he was disputing fourth, the next he took off and was running down the Irish trailblazer with a breathtaking inexorability.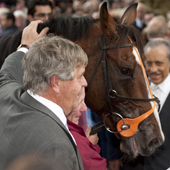 Workforce " slammed his field by seven merciless lengths"
PICTURE:
Edward Whitaker (racingpost.com/photos)
What was so amazing is that he is a big colt, but by God he is loaded with some foot, and while he handled the menu of the weird that is Epsom, you have to think that other courses where the great issues of the Turf are settled will play to his strengths even more.
In landing the Derby, Workforce put through the shredder the statistic upheld by 95 colts in the past that the Dante defeated cannot cut the mustard at Epsom.
But we had a far more important first in that we saw the first signs that Ryan Moore isjust like the rest of us and a mere mortal on the emotional front. He did not weep pints or go all soppy on us, but I am delighted to say that not one bit of this life-defining moment appeared to be lost on him, which is as it should be and means that itwill register deep, lasting and satisfying.
It is emotion that chisels the soul: satisfaction at a job well done, as was the case after his Oaks a day earlier, barely scratches the surface.
And it should be pointedout that while Moore is a man of few words he talks real sense when he does string a few sentences together.
After the Dante he slipped from the saddle and told Stoute and Khalid Abdullah's racing managerTeddy Grimthorpe: "Don't be disappointed because I wasn't."
Immediately after the Derby he was worried "that I was a little bit hard on him", and was still worrying that Workforce had endured a tough old race when,in an unprecedented and much-appreciated gesture, he came into the press centre over two hours after the race to undergo a major interview. The boy's going soft on us.
And what of the extraordinary Stoute? Well, in pure stats he has now sent out just one fewer Derby winners than the greatest trainer of all time, Vincent O'Brien, and it should be only a matter of time before he ranks equal to Vincent in terms of Epsom, though there is the small matter of a few Gold Cups and Nationals that keep the quiet genius of Tipperary in a solitary supremacy never to be threatened.
Stoute pointed out after the race what a tight schedule it is to try to get to the Derby once you have had a setback or a horse has not come to himself in the spring. Here, he has undoubtedly been helped by the fact that Workforce has a terrific temperament - he is clearly a solid citizen and as sound in brain as he is strong in frame.
That must have meant Stoute could push a bit harder and catch up successfully, with the last piece of the jigsaw falling into place with that racecourse gallop at Lingfield and that extra vital experience of a long, left-handed swoop into the straight.
What is interesting about this colt is that he has had a very high reputation for some time and not merely lived up to it but exceeded it by miles. A wide margin is one thing, to win by seven lengths in a course record quite another. To manage that off just one and half races and ashoehorned preparation suggests we may have something exceptional on our hands.
He may have had a hardish race but he has the physique to take it. It was notable that Teddy Grimthorpe reported all of them - including Prince Khalid - had thought the world of Workforce from the earliest days, and said: "He was a big horse and they can go backwards and go weak on you at two, but he was not like that and never lost condition."
To me, that suggests Workforce has always been the sort who can rise above the slings and arrows that a racing career in the top class will hurl at him. And he is in wonderful hands - those of Britain's pre-eminent trainer of his generation and a jockey in the very prime of his life.
After last year's sensation that was Sea The Stars we had every right to assume the cupboard of greatness would be bare this year, the field of superlatives allowed to lie fallow.
After this hugely memorable Derby-winning performance there is every chance we were wrong.
Published June 6, 2010