Ryan Moore and Snow Fairy (right) storm to victory in the Oaks
PICTURE:
Edward Whitaker/racingpostpix.com
Moore on the climb from very good to exceptional
Alastair Down hails the contribution of Ryan Moore to Snow Fairy's tough Oaks victory
ED DUNLOP was not only the world's tallest trainer but the happiest one as well after Snow Fairy had showed the twin virtues of speed and toughness to land a distinctly unladylike Oaks at Epsom yesterday.
These fillies have no shame, as it was a proper old catfight in the early stages, with even Ryan Moore, who is no wimp and was losing his Classic virginity, admitting it was "a very rough race, with a lot of interference early on, and I decided to take her back to give her a chance as there was an awful lot of bumping".
Dunlop said after the race that booking Moore for Snow Fairy had been "half the battle", but he may have been undercalling the jockey's contribution to the victory of a very solidly backed filly who started 9-1, having begun the day at 16s.
As this was Moore's first Classic victory, there seemed to be some expectation that Ryan would treat the crowd to a fusilladeof high fives, a celebratory cartwheel or two, before spraying the crowd in champagne between wisecracks and witticisms to make Stephen Fry look like a brother Grimm.
Instead, Ryan gave us his usual impressions of a man whose much-loved Jack Russell had just lost an argument with a double decker bus or, just before April 20, had put his life savings into BP shares.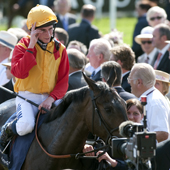 Ryan Moore has gone from the "very good to the exceptional"
PICTURE:
Edward Whitaker/racingpostpix.com
But, for my money, what is increasingly remarkable about Moore is what he is achieving during the race - the bit he is paid for - rather than afterwards when he is unfailingly polite but just chronically underwhelmed. In a way, his disinclination to join in the media circus is rather refreshing.
Twentyyears ago people handled success or met great moments without feeling a need to get on intimate terms with 50 million fellow citizens. But now we live in an age when a minor celebrity has only to negotiate a zebra crossing successfully for him to burst into tears of triumph, thank his parents and dash off an autobiography dedicated to everyone he has ever met.
Moore's studied insouciance tells you that he isn't going to contort himself to fit in with anyone's agenda. It has a lot to do with confidence, and that is a commodity he has by the shedload in his race-riding.
And that belief in his own talents is allied to an increasingly demonic strength in the saddle; he has about him these days an impression of power and that sense of will just this side of savage that Piggott possessed.
Of course it helped that Snow Fairy is both tough and willing, but Moore is getting a tune out of horses, day in, day out, almost as old as he is and just as knowing. That is what is gradually elevating him from the very good to the exceptional.
It is six years since Dunlop won the Oaks with Ouija Board, but Snow Fairy is from Ed's new base at Lagrange Stables, to where he eventually transferred after he left the Maktoum-owned Gainsborough Stables, though he still trains for Hamdan and some of his friends.
Snow Fairy runs in red and yellow of Tina Patino and those same colours, in their Windflower Overseas Holdings configuration, have been associated with John Dunlop's Arundel yard since they built the castle there.
Mrs Patino has one horse with both the Dunlop sons, and all credit to her for shelling out £20,000 afterher filly won at Goodwood. She is clearly a game old sort - and I hope she will take that compliment in the manner intended.
THE Patino family fortunes originated with Mrs Patino's grandfather from tin in Bolivia, but she is very muchon the gold standard these days and a stalwart, if low profile, supporter of racing in general and Dunlops in particular.
Usually after a Classic triumph, the trainer says: "She's entered in everything." But Ed confessed: "She's not in any other races at the moment, and some of the options are quite expensive."
But they were a great deal more affordable at five past four yesterday than had been the case at five minutes to.
Published June 5, 2010